Reporting your results initially seems like a rather straightforward matter to handle. However, with thousands of earnings calls and webcasts delivered, we have noticed some common pitfalls that could be easily avoided. In this article, we have gathered four best practices for successful Investor Relations (IR) events, which ensure equal and easy access to information to all investors. These principles can be applied to Capital Market Days (CMD) and other investor events as well.
Virtual events boost the democratization of investing
IR Officers are typically very familiar with providing remote participation options for publicly listed company quarterly reports and CMDs. Analysts, fund managers and other investment professionals around the world have been participating in investor events via teleconferences since the dawn of time. The benefits are obvious: reaching all stakeholders through a virtual event saves a lot of top management's time, reducing dramatically the need for one-on-onesand at the same time providing equal access to information for all investors.
In some markets, like Finland where Videosync hails from, the level of the bar was raised already in the early 2000s when live investor event webcasts were introduced. Can you believe that YouTube didn't even exist back then?
As more and more investor sentiment power is shifting from institutions to private investors influencing and networking on Twitter, Discord and various investor communities, majority of enterprises have boarded the virtual IR event train. However, in many cases the participant experience is poor, and you can still encounter a lot of access-only legacy teleconferences, which really don't seem to be in line with the standards of user experience in the 2020s.
The unpleasant truth: too many enterprises segregate institutional and private investors by announcing their results only via a teleconference. Teleconference might be something that analysts and institutions are accustomed to, but for private investors this method represents inconvenience and does not convey the feeling that their voice is important or taken seriously.
Creating a truly equal access to information, and the feeling that the private investor is heard does not require much. It begins by adding a possibility to tune in to the live event via a web-browser. And no, it's not enough to provide the recording after the event in an app or on the company IR website. Time and timing is one of the key factors on the stock market - and accessibility means that everyone has a truly equal possibility to access the information at the same time.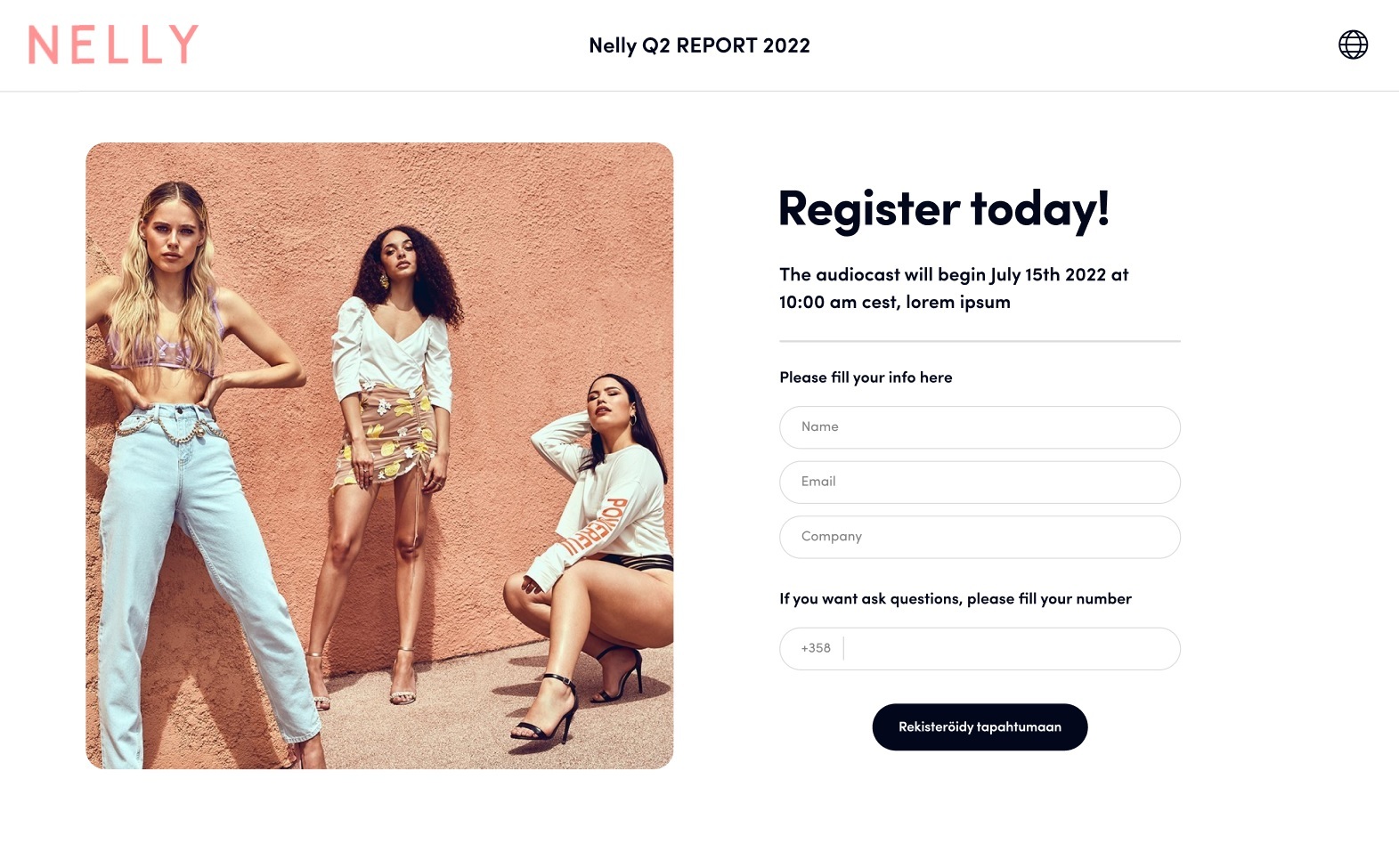 2. Branding and interface - Providing your audience with user experience worthy of your brand is a choice, not a cost
On the left, you can see a screen capture of the Q4'2021 event of SAP, a global company with €99 billion market cap (Sept '22). Pressing play will start a metallic sounding audio file recorded from the telephone lines. On the right, you can see a screen capture of Q4'2021 event of Digital Workforce, an up-and-coming company with €43 million market cap (Sept '22). Clear sound, slides indexed with the video (both of which can be viewed fullscreen), ability to move to your desired party of the presentation with the slide thumbnails. SAP is 2,300 times bigger company than Digital Workforce, but in terms of user experience Digital Workforce is roughly 2,300 times better.

To set up a compelling user experience, Digital Workforce has been using Videosync event platform. The presentation that contains video, audio and slides forms an intuitive user experience. Both the video and slides can be set full-screen, and slide thumbnails allow users navigate in the recording to topics that interest them the most. Furthermore, the production workflow with server-side recording and online editing tool allow publishing the recording immediately after the live event has ended.
3. Two-sided communication - It doesn't have to be a privilege of finance industry professionals
Fixing accessibility and participant experience should be considered as the bare minimum for all listed companies. In order to further improve investor communications, the next item is to add two-way communication. Q&A sessions allow investors not only to pick up relevant information from questions that are asked to challenge the company's management, but also to learn the kind of topics other investors and investment professionals are paying attention to in the company's development. However, in too many cases the questions are limited to bare minimum or worse, there isn't any at all. Here's two points of action to increase engagement of your investor events.
1. Chat comments - Providing your audience the ability to ask questions in amoderated chat is a democratic and safe method to increase the number of relevant questions for your event. Videosync's moderator tool includes separate views for both the moderator and the speakers for ease of use and convenience.

2. Audio comments - Or video,whichever better suits your needs. Like I mentioned above, teleconference is a legacy tool, and for a smoother user experience for both the speakers and your audience, consider web-based audio Q&A. It is also possible to combine both of these to ensure that the needs of all participants are covered.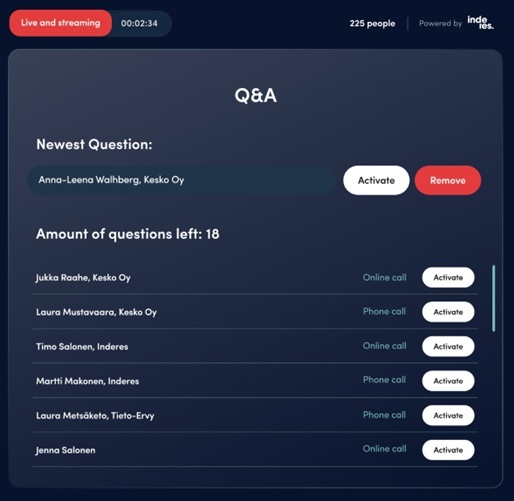 In terms of providing easy access to relevant content for your audience, consider also indexing the Q&A questions
4. Distribution - There's more to it than a press release
Not all IROs have the privilege of working for a Fortune 500 or another company being followed avidly by local and international investing scene influencers as well as by the media. There are many tools to build awareness and followers for your investment story, and obviously quarterly reports are one of the most logical opportunities to share your story with your audience.
Co-operating with local investor communities is an excellent way of increasing your investor reach. There are numerous investor communities that are happy to distribute your content and promote your event to their members, as long as your set-up is community friendly: accessible, has good user experience and two-way communication. All you need to do is some due diligence and make sure that the community is of good quality. Good community embodies high level of member activity, both in terms of quantity but even more importantly, of activity quality. Random rocket or bear emoji scene featuring cult-like promoting of own portfolio companies doesn't do any good for your case. Instead you should look for communities where the members are providing analytical and objective comments and discussion - these are more likely to be trusted by serious investors, also in the tougher times.
One good example of a such community is Inderes, consisting of quality posts both by in-house professional analysts and a vast number of active investors in the Nordics. Disclaimer: Videosync is developed within the Inderes Group.
Conclusions
As a summary, if you want to improve the attractiveness and reach of your quarterly reports, consider these four key areas:
Accessibility. Non-institutional investment influencers are a force to be reckoned. Providing equal access and tools that are convenient for the investors should be considered a must.

User experience. Don't settle for something that conveys a legacy image of your operations. Your shareholders and potential investors appreciate experience that is in line with today's standards of content consumption and online participation.

Two-way communication. Active Q&A provides an excellent opportunity to explain your operations, decision-making and investment case to your audience. Provide the right tools for your audience to improve engagement.

Distribution. There's an abundance of companies seeking attention. Partnering with local investor communities is an excellent way to get your voice heard and reach active investors.
If you want to level up with your quarterly reports or other IR events, just ping us . Videosync is already trusted by over 500 publicly listed companies for their quarterly report production and delivery.