"Videosync is a differentiator for us. Its customization features, support and flexibility allow us to react quickly to our customer demands and we can be truly innovative with our virtual events."
Jason Gleave – Managing Director, FlyOnTheWall - the event broadcasting company
Jason Gleave from FlyOnTheWall sat down with Miikka Laitila from Videosync to talk about
the virtual event market, platforms and where the industry is headed. Read the story to learn more about FlyOnTheWall, the things Jason considers critical in virtual events, and why they chose Videosync for the task.
Meet Jason and FlyOnTheWall
Jason Gleave is a seasoned event production professional and entrepreneur with over 30 years of experience from the industry. He is the Managing Director and founder of event streaming company FlyOnTheWall. Their event productions experience includes G20 summits to UK government projects and from investor relation events to Burberry and Versace fashion shows.
Today, basically all events are live streamed. However, Jason notes that it wasn't always like this.
"When we started in 2001, we were really early in the streaming. There was no Youtube yet and streaming was seen as a strange and unreliable add-on feature. Yet we managed to land FlyOnTheWall in the UK live event sector. Happy to say that 20 years later, 99% of our service delivery is about broadcasting live events from all over the world."
Clients require customized and engaging virtual events
While the demand for live streaming has increased, so has the complexity. There are new attendee needs and technical requirements to consider, and new products and solutions to utilize.
"Previously we had maybe one video streamed on one website, and now the same event can be on multiple platforms with multiple languages. You also need to consider accessibility, captioning, video options, embedding and so on. And that's just the technical side."
The needs and demands of clients drive the technological choices. For a virtual event platform, the needs have evolved as both clients and end-users require more and more from events.
"Our requirements for a virtual event platform come from what the clients need. With the increased complexity and varying client preferences, we must be flexible. We want to enable interaction and navigation around the live video, versatile on-demand options, support for other assets, dynamic presentation slides, chat, voting and all other sorts of features. These are often bespoke requirements that aren't part of the client's normal website. So, we need to come up with tailored solutions with our virtual events."
Even though both the complexity and the number of features has increased, the core of the live event remains unchanged: Clients want everything to go as smoothly as possible.
"Many things have changed in virtual events, but the criticality of live isn't one. Live events have always been critical, and that is why stability and support are vital for virtual events."
From inhouse solution to Videosync
In the past, FlyOnTheWall had an inhouse event platform but after a while they decided to look for other options.
"Initially, we built our own virtual event platform, as many companies did. We always wanted to provide a versatile experience for the viewers. Then after a while we realized that developing inhouse is expensive, time consuming and we don't get any benefits when other companies use our platform. So, we decided to analyze different providers. The traditional big tech providers didn't seem a good fit, as we wanted something more flexible. Luckily, we encountered a few events created with Videosync, and decided to give it a go."
FlyOnTheWall have trusted Videosync as their virtual event platform for several years now, especially with events that have a registered audience. Jason underlines that it's often vital to create a secure and engaging but an easy-to-navigate user experience in their virtual events.
"We use Videosync on about 50% of the projects that we work on. In these projects our clients are very determined to deliver a successful event for a focused participant group. Clients want to know who has registered and who is watching the event. This is especially important in different presentations, public announcements, financial results, AGMs, other IR events and internal events. Security is also important in these events. When it's on Videosync, we know it's secure, whether it's invite-only, password protected or attendee whitelisted."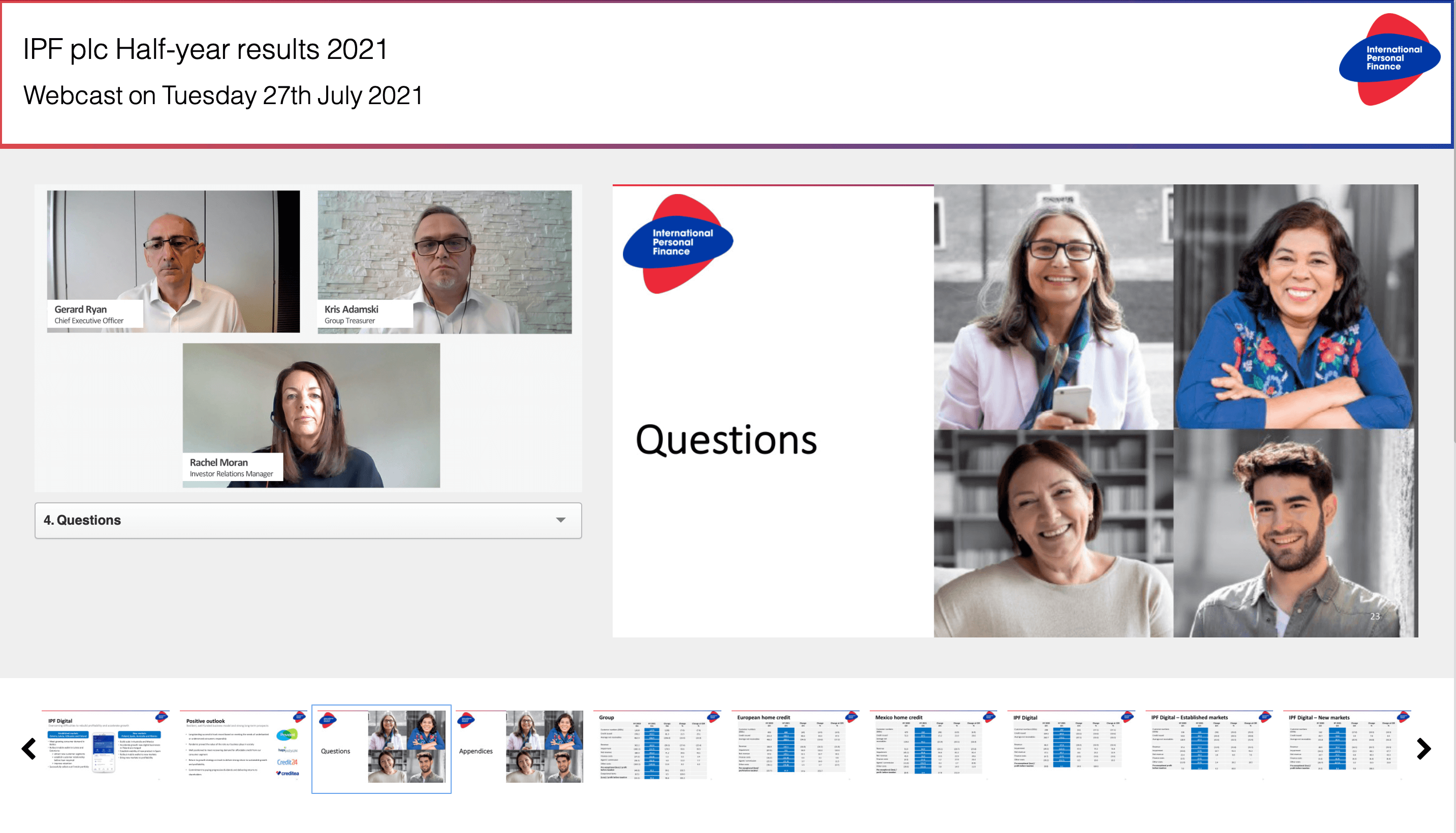 FlyOnTheWall uses Videosync for different internal, public and IR events such as earnings calls and AGMs.
Flexibility to deliver just what the client needs
With such a diverse customer portfolio, flexibility and customization options in a virtual event platform are essential for FlyOnTheWall
"One thing that is fantastic about Videosync is how adaptable it is: You can make just the right look and feel for your client. You can create a simple quarterly results environment identical to the report on the client's website. And lo and behold, there it is identical to their website. Things go smoothly, and the client is happy. Or you can really go to town with live contribution, pre-recorded videos, interactions with the viewer, all wrapped in a modern look. So yeah, I think the adaptability of the platform is really something."
Flexibility combined with readily available support has helped FlyOnTheWall to deliver exceptional results to their clients quickly.
"I can go into so much detail about what we like about working with the Videosync team. It's not a huge organisation, so we don't have to push a ticket and wait for days. And I think that's a major benefit. Some of our clients' requests can be really challenging and you think that they cannot be pulled off. For example, we produce one annual event, where there is a 10-hour live session, Q&A, 40 to 50 different speakers, voting, questions, product displays and so on. And all this is happening globally all over the world. In such complex events, you might need support from your virtual event platform. And the nimble and innovative Videosync team has been there for us. The big event platforms don't provide this kind of flexibility and support with the event site. I think it's great to have that kind of safety net available."
A platform with a lot of innovative clients brings new benefits for FlyOnTheWall as well.
"A great advantage of working with Videosync is that there are literally dozens upon dozens of clients using the platform. And it's constantly evolving based on the feedback. So, we benefit from the features done for other clients. Still Videosync is a differentiator for us. Especially the customization, support and flexibility allow us to react quickly to our customer demands and we can be truly innovative."
Virtual events are here to stay, and so is the competition
The last two years have been trying for the event industry. However, Jason notes that at the same time there has been a huge leap in digitalization and virtual events.
"The past two years have been extraordinary for us, the event industry and the planet. For the live event industry and streaming the rate of change has accelerated as customers are more willing to go virtual or hybrid. Even though we have this appalling situation, there's the long-term change: Most events will be streamed, whether it's a school play, quarterly results, or a fashion show. It is a game changer as remote audiences are now valued as much as the physical audience. So no more second-rate citizens."
However, for FlyOnTheWall with increasing demand comes increased competition. The ones to benefit most from this are viewers, as they are offered a more inclusive experience when streams and recordings become readily available.
"We have done live streaming for many, many years. The number of opportunities has grown a lot, so there's naturally an increase in the competition as well. Consumers expect events to be streamed. I hope we don't go backwards but make sure that grandmothers can continue to see their grandchildren in that school play from 300 miles away. We need to continue to innovate, integrate different platforms and deliver great events".
High quality virtual events benefit everyone, also competitors
When asked what you would say to other event agencies in a similar situation, Jason underlined that the quality of virtual events cannot be neglected.
"Keep your prices up, so don't go too cheap! On a more serious note, although that is one, I'd say ensure that your virtual events are just as important as the physical ones. The standards that people have for physical events should remain the same in virtual. The remote audience is just as important as one that's physically present. Engaging remote audiences is much harder without the right virtual event platform."
Jason ended the discussion with a positive look to the future.
"I would say one of the biggest things is to keep the quality high. Let's not have disaster stories going around, just more fantastic success stories. Nobody wants other businesses to mess up the delivery as it doesn't help anyone. So let's make brilliant event broadcasts, and more clients will want to do them. There's plenty of opportunities for all of us to be involved in a very, very busy space. I'm really excited for these next few years."
It's easy to agree with Jason: There are a lot of business opportunities in the virtual and hybrid event space, but creating a successful and engaging event requires expertise, hard work, and the right technology. Our Videosync team provides a flexible platform and hands-on support to continue to deliver world-class events in the future too.